Who won the 2022 World Series of Warzone?
Caldera took center-stage in the 2022 World Series of Warzone North America finals, featuring invited squads and online qualifiers alike.
Forty teams of three, featuring some of the biggest names in Call of Duty, dropped into five games of battle royale on Warzone Pacific's map to decide the winners of the lion's share of a $300,000 prize pool.
But that's not all. All of the competitors then dropped in to one winner-take-all "Solo YOLO" match where one winner added $100,000 to their bank accounts. Allegiances were thrown away as teammates took each other down in the solog ame.
Last year, CoD esports legend Scump staked his claim as a Warzone champion by winning a tense one-vs-one against one of Warzone's highest earning stars Aydan, so anticipation was high to see who would win this one.
Who took home the biggest prize of the year? Check out all of the updates from the live event below.
Who won the 2022 World Series of Warzone?
6:40pm CT: Thanks for following along this year. Congratulations to the winners Skullface, Mayappo, and Hisoka in trios, and Fifakillz in the Solo YOLO. In EU, the winners were Waartex, BBlade, and savyultras90, and BBlade doubled up the victory by winning the Solo YOLO as well.
6:38pm CT: Fifakillz wins it! He just got $100,000 richer off of this one kill!
6:35pm CT: Rated just got killed by a Precision Airstrike through a wall. Oh my. That is not supposed to happen.
6:32pm CT: Scump is gone. Last year's Solo YOLO winner has been eliminated. We will have a new champion. The players are dropping quickly now.
6:22pm CT: The pace of this match is…different. Several players are just in vehicles and driving around each other.
6:10pm CT: It's time! The game begins with 120 Warzone stars dropping in for one final winner-take-all game.
5:55pm CT: The $100,000 Solo YOLO is up next to close out this year's event. All 120 participants will drop into one lobby with just one winner taking home the entire $100K. King Scump won it last year. Who will wear the crown in 2022?
5:45pm CT: It's official! Skullface, Mayappo, and Hisoka are your 2022 World Series of Warzone Trios NA champions! They win the big first place prize of $50,000. SuperEvan, Biffle, and Repullze come in second, and Torronix, Empathy, and Braxtvn place third.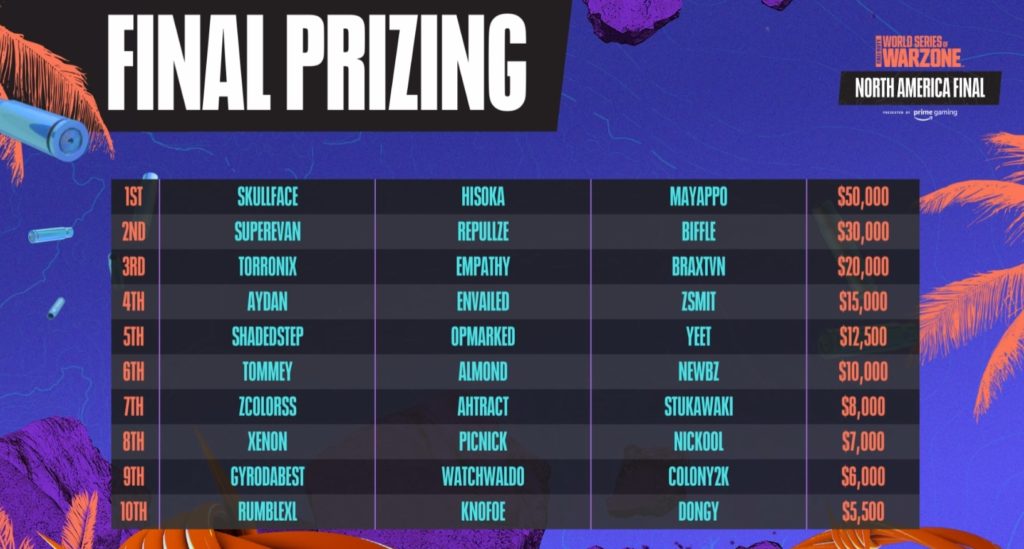 5:40pm CT: Drop Five comes to a close with ShadedStep, OPMarked, and Yeet winning the game. The final tally should be coming in soon, but it looks like Skullface's team are going to be the trios champions.
5:35pm CT: A heartbreaker for Aydan and ZLaner, who both got a dev error and lagged out of the game.
5:30pm CT: All eyes are now on Team Skullface and Team Torronix, currently first and third in the standings respectively. Both squads are still alive as they approach the top-15 in the final lobby of the day.
5:21pm CT: Biffle is down! Their team has been eliminated, so Skullface's team might have an easy road to the victory from here on out. SuperEvan's team's lock on second place might even be in jeopardy now, as well.
5:17pm CT: Whoa! SuperEvan and Repullze both lost their Gulags early on in Drop Five, and it's up to Biffle to keep his team's hopes of winning the tournament alive.
5:10pm CT: It all comes down to this. One final lobby will decide the winners of the biggest shares of the $300,000 prize pool for the trios tournament today. Can anyone catch up to Team Skullface or Team SuperEvan?
5:02pm CT: Back to back wins for Skullface's squad! A huge 29 kills will give them 58 points in Drop Four and put them into the lead heading into the final lobby.

4:55pm CT: The top two teams are still alive. The showdowns between SuperEvan's squad and Skullface's team are intense.
4:45pm CT: The main trend today is teams playing it super safe until the last possible minute. Once there are 15 teams left, mayhem ensues. Right now there are still 35 teams left, and the top teams are pulling away, but there's still time left for the standings to swing.
4:35pm CT: Drop Four is about to begin. SuperEvan, Biffle, and Repullze can nearly end it here with a high-kill game and decent placement. The other teams in the lobby need to step it up.
4:20pm CT: Mayappo's squad wins Drop Three with 21 kills combined, with SuperEvan's squad taking another second place, which will go a long way to helping them hold their top spot. They hold the lead at 81.5 points, with Skullface, Mayappo, and Hisoka close behind at 66.0.

4:15pm CT: Aydan survives the gas with multiple Portable Decontamination Stations and makes it into the top-15, securing a 1.5x multiplier for his team, showing off the unique playstyle of this tournament.
4:05pm CT: Mayappo continues to lead the lobby in overall kills halfway through the event with 19, one ahead of SuperEvan. Impressive turnout from the online qualifier.
3:53pm CT: Drop Three begins without a hitch, and the 2022 World Series of Warzone is burning towards its conclusion with swiftness! This is the halfway point of the trios tournament before the Solo YOLO to close it out.
3:47pm CT: A massive 19-kill victory propels SuperEvan's squad to the top spot after two games.

3:43pm CT: SuperEvan, Repullze, and Biffle pull off a big win in an intense final circle with four teams involved. This will have big implications on the standings.
3:35pm CT: The 1.5x multiplier has kicked in, and some of the top teams from Drop One are still alive. They could really pull away from the competition with some big kills here.
3:22pm CT: Nearly 200,000 viewers are tuned in to Warzone on Twitch, with tens of thousands more watching on YouTube.

3:17pm CT: After another tech delay, Drop Two is kicking off now.
3:00pm CT: Here are the top teams after round one as ShadedStep's team secured the 2x multiplier with the big victory.

2:59pm CT: SuperEvan almost pulls off the one-vs-three, but ShadedStep, OPMarked, and Yeet are the winners of Drop One!
2:55pm CT: The final circle is closing in on Plentiful Fields. Five teams remain.
2:50pm CT: The fifth circle is closing, and ZLaner's team is currently in first place, but there are plenty of other squads in the running. Mayappo is leading the lobby in kills.
2:45pm CT: What the hell just happened?
2:42pm CT: It's important to note and remember that the first goal is to make it into the top 15 teams, so teams will be playing rather carefully until that point, because that's when the 1.5x score multiplier kicks in. The winners of each lobby will get a 2x score multiplier.
2:40pm CT: The pace of Drop One is slow to start as teams aim to grab their loadouts, which are basically just a UGM-8 and Armaguerra 43, the current dominant meta weapons in Caldera.
2:34pm CT: Not a good start for 2021 WSOW duos champion Newbz, who just absolutely choked his Gulag!
2:31pm CT: We're finally ready to begin! It's time to drop into Caldera and crown new WSOW champions.
2:20pm CT: Warzone tournaments and technical issues. Name a better duo. We are still waiting for the first game to begin.
2:05pm CT: Can HusKerrs or Newbz repeat as champions from 2021? What about the $100,000 Solo YOLO, which went to Scump last year? The lobby is absolutely stacked as the casters stall for time before we begin Drop One out of five.
1:50pm CT: The Call of Duty Twitch channel is host to this year's event, but you can also follow along with the individual players on Twitch, YouTube, or even Facebook Gaming.
1:45pm CT: Good afternoon and welcome to what is possibly the final large-scale tournament in Call of Duty: Warzone. Modern Warfare 2 is just under two months away and Warzone 2.0 should be coming not long after that, so this could be the final chance for NA's biggest Warzone stars to flex their skills on Caldera.
World Series of Warzone NA finals teams
Invited teams
| | |
| --- | --- |
| Apathy, Slacked, Flanked | Blazt, Bulieve, Ulquiorra |
| BBreadman, JoeWo, Fifakillz | Cxrrupt, Mutex, TheJCBaby |
| Swishem, Kenzrosey, QueenShadow | Temp, Aqua, Blizzsane |
| Swagg, LuckyChamu, Booyah | Rated, Shifty, Ottereyes |
| Sebas, JDevise, Kaysen Oakley | Inviicta, JaredFPS, KaylaDelancey |
| Overgirl, QueenBitty, Winterellas | TDawg, Censor, Nero |
| TimTheTatman, Scump, Methodz | HusKerrs, Unrational, Scummn |
| Aydan, Enveiled, ZSmit | ZLaner, Sage, Destroy |
| ShawnJ, Greveey, xMrLerkx | SuperEvan, Repullze, Biffle |
| Tommey, Almond, Newbz | Teep, Crowder, NiicoInfinite |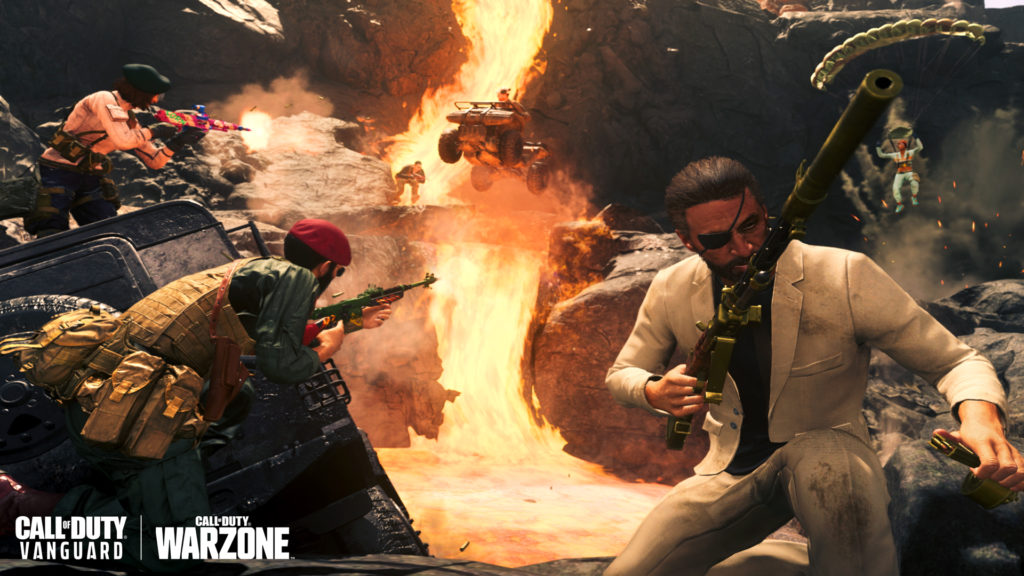 Qualified teams
| | |
| --- | --- |
| Skullface, Hisoka, Mayappo | Braalik, ForeignJase, Exzachtt |
| Torronix, Empathy, Braxtvn | Wagnificent, Stellarmoves, BonQ |
| CasperV, Nobu Spartan, BlingCJay | RumbleXL, Knofoe, Dongy |
| Xenon, Picnick, Nickool | ZColorss, Ahtract, Stukawaki |
| Castillo, Lanez, Sway | Treq, TreeGamingTV, VSat |
| Otyme, Rexity, Donzell | ShadedStep, OPMarked, Yeet |
| GyroDaBest, WatchWaldo, Colony2K | Ebatez, Strochez, DJMas23 |
| FaZe Bloo, Inno, Luvey | Tapvlator, Lonnerd, Nukahhh |
| Frozone, Intechs, Pieman | MP Lookup, MP Robert, MP Cronos |
| Bartonologist, Dr3w, AlmightyTJM | LiamBeams, ClassicPain, Deniro |
World Series of Warzone scoring system
In the trios portion of the event, teams are awarded points for scoring kills. Their score is then multiplied depending on their placement, so the winners will need a combination of high kill games and placing well in the match.
One kill: one point
First place: 2x points multiplier
Second-15th place: 1.5x points multiplier
16th-40th place: 1x points multiplier
World Series of Warzone prize pool