Sea Piece Codes (October 2022)
Sea Piece puts players in the shoes of a fish person and tasks them with growing their level by killing bandits, monkeys, and more before they can be in a position to PvP. It takes a few islands before you can PvP, but by then, you should have a devil fruit and your melee ready for fighting. The objective is to become the strongest, which isn't very hard if you follow our guide below.
The codes below give you a boost in experience and a ton of Beli. The experience helps you get through your first island quickly, since the next islands are where you want to end up. Using these codes will make the early game grind very short.
For more codes for games like Sea Piece, check out Roblox Grand Piece Online codes, Roblox One Piece: Millennium 3 codes, Piece Online Codes, One Piece: Bursting Rage codes, or Last Pirate codes.
All Sea Piece Codes List
Updated October 8, 2022

Added a new Sea Piece code!
Sea Piece Codes (Working)
Here's a look at all the working Sea Piece codes.
SOUL—Redeem for 666,666 Beli (New)
HappySpooktober—Redeem for 666,666 Beli
caughtemlackin—Redeem for 600k Beli
fishlol—Redeem for Beli
SECONDSEA!—Redeem for 123 Beli
Sea Piece Codes (Expired)
These codes for Sea Piece no longer work.
Billionare!—Redeem for 1 billion Beli
Millionare!—Redeem for 500mil Beli
Update8!—Redeem for Free Rewards
Update7!—Redeem for 246,810 Beli
Update6!—Redeem for 5 Mins double exp and a Stat reset
BackToSchoolNerds—Redeem for 123,456 Beli and a Stat reset
Update5!—Redeem for 1,000,000 Beli
Big20—Redeem for 1,000,000 Beli
SorryAbout10K!—Redeem for 250,000 Beli
UPDATE4!—Redeem this code for 2x exp 5 Mins
cat!—Redeem this code for 2x exp for five minutes
10kLikes!
1000Likes—Redeem this code for stat reset and 2x exp  for five minutes
UPDATE3!—Redeem for 1 million Beli and a Stat Reset (New)
woopsmbgang!—Redeem this code for 150,000 beli and 2x exp for 15 minutes
APOLOGIES!—Redeem this code for 2x exp for 2 hours
500Likes—Redeem this code for stat reset and 100,000 Beli
Sub2Taklaman—Redeem this code for 2x exp for five minutes
Sub2MrSwole—Redeem this code for 2x exp for five minutes
Sub2Kaijoh26—Redeem this code for 2x exp for five minutes
SORRYFORSHUTDOWN!—Redeem this code for 2x exp for five minutes
Sorry!—Redeem this code for 2x exp for 10 minutes
Sea Piece frequently asked questions
Here's everything you need to know regarding Sea Piece codes.
How to redeem Sea Piece codes
Redeeming codes for free rewards in Sea Piece is easy.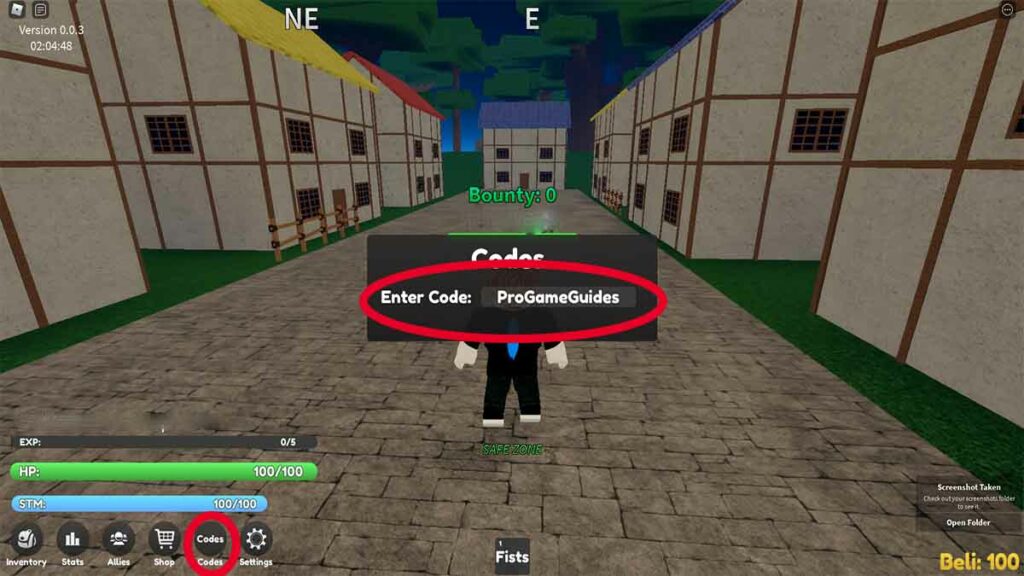 Launch Sea Piece on Roblox.
Click Codes on the bottom left side of the screen.
Enter the code in the next text box that appears.
Press the Enter key to redeem your code.
How can you get more Sea Piece codes?
The best way to stay updated on Sea Piece codes is to bookmark this page and return to it often. We make sure our Roblox codes are as up-to-date as possible.
Alternatively, you can watch the updates channel on the game's Discord server. Once a milestone is reached, the developer adds the code to the game's updates channel.
What's the fastest way to level up in Sea Piece?
The best way of leveling up in Sea Piece is to focus on only bringing your stamina and health up by four points on the first island, eight points on the second, 12 on the third, and so on. Most of your points should go into your melee or sword, depending on what you'll use to fight. Before killing anything, always get the quests because they'll give you levels worth of experience every time you complete them. Everytime you get to the point where you can kill the minions on each island in one hit, move on to the next island.
Why aren't my Sea Piece codes working?
One of the most common issues for Roblox codes is entering them incorrectly. The best thing to do is copy the code from the list above and paste it into the code's text box. If the code has been entered correctly and the game isn't accepting it, then the code is most likely expired. Please leave a comment for expired codes, and we will double-check them to ensure they work correctly.
What is Sea Piece?
Sea Piece is a game that has 11 small islands and tasks players with leveling up as much as they can for the first few before letting them PvP against other players. As you progress through the islands, more weapons and quests will become unlocked. The best thing to do is to get through the early game grind so you can start fighting other players.
If you're looking for codes for other games, we have a ton of them in our Roblox Game Codes post! You can also get a bunch of free stuff via our Roblox Promo Codes page.