Roblox Reaper Simulator 2 Codes (October 2022)
Our Roblox Reaper Simulator 2 Codes has the most up-to-date list of codes that you can redeem for some free crowns and souls. These will help you improve your level and help you increase the power of your character.
Reaper Simulator 2 Codes List
We'll keep you updated with additional codes once they are released. You should make sure to redeem these as soon as possible because you'll never know when they could expire! All of these codes have been tested on the date that this post was released. If you find one that is expired, please let us know the exact code in the comments below so we can remove it!
Updated October 16, 2022

Removed expired codes.
Reaper Simulator 2 Codes (Active)
Here's a look at a list of all the Reaper Simulator 2 Codes:
Free Coin Boost: 60KSCYTHE
Free Pet: StarterPet
Free Souls: Roblerom
Free Souls: Joseph47
Free Souls: SnowRBX
Free Souls: AustinChallenges
Free Souls: Sub2CDTV
Free Souls: youlikechomp
Free Souls: PlanetMilo
Free Souls: JeffBlox
Free Souls: Sub2Seer
Free Souls: Sub2Cookie
Free Souls: Sub2JoJocraft
Free Souls: GamingDan
Free Souls: Snuggie
Reaper Simulator 2 Codes (Expired)
These codes are all inactive and no longer work.
Free Blue Essence: Season2
Free Pet: 40KLikesCode
Free 250 Essence: HugeUpdate4
12 Hour VIP Bonus: Bounties
Free Crowns: Elixirs
Free Crowns: ThankYou20K
Free Crowns: 10KSpecial
Free Souls: 90%Code! x
Free Crowns: 5KLikes
Free Souls: 2.5KLikes
Free Crowns: 1000Likes
Free Crowns: Release
Free Souls: Extra
How-to Redeem Codes in Reaper Simulator 2
Redeeming your codes in Reaper Simulator 2 is pretty easy to do in the game! When you open up the game you'll see the a Twitter icon on the right side of your screen that you can click on. Once you do, you can enter codes in the box that appears.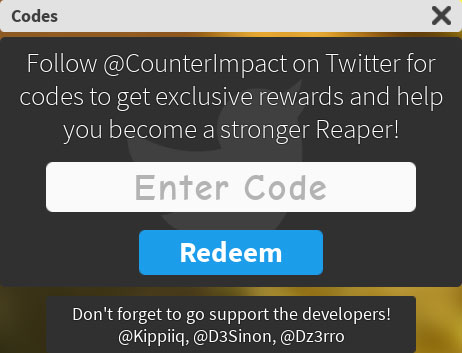 Click on the area labeled "Enter Code" and input one of the codes from below. Once you've got it entered in correctly, you'll just need to hit the Redeem button and you will be given the reward!
What To Do With Crowns & Souls
Souls can be used to purchase crates that will unlock particular cosmetics like wings, effects, and trails! The more souls you have you can purchase a higher rarity crate of that particular cosmetic. Crowns are your more gameplay based currency that is pretty common in simulator games. You can upgrade your scythe, satchel, and eventually purchase more ranks!
If you're looking for codes for other games, we have a ton of them in our Roblox Game Codes post! You can also get a bunch of free stuff via our Roblox Promo Codes page.