RoBeats Codes (October 2022)
RoBeats is a popular music-themed Roblox experience that draws influence from the massively popular Guitar Hero franchise. As you play, you'll find that you are rewarded based on your performance—the better you perform, the more Coins and Stars you get, which are two essential resources you need to increase your rank and buy objects in the game.
Codes are extremely helpful in the game because they grant you instant access to things you would otherwise only get when you play for a long time. Usually, these codes will give you Coins you can use in the shop, but some of them grant you exclusive rewards like VIP Tickets and Event Points.
While you're using our RoBeats Codes list below, don't forget to check out our codes for other similar Roblox games. We have the most up-to-date lists for many social and music-themed Roblox experiences. Check out our codes for Spotify Island, Friday Night Bloxxin', Funky Friday, and Miraculous RP.
All Roblox RoBeats Codes List
Updated October 5, 2022

Added a new code.
RoBeats Codes (Working)
Here's a look at all the working RoBeats codes.
famicom—Redeem for 125 Event Points (New)
RoBeats Codes (Expired)
These RoBeats codes no longer work.
getit—Redeem for 125 Event Points
kurokotei—Redeem for 125 Event Points
M31998

—Redeem for 125 Event Points

letsroll

—Redeem for 125 Event Points

vancouver—Redeem for 125 Event Points
stagetesterq6—Redeem for free rewards
thanks380k—Redeem for 250 Coins and 3 Stars
thanks380kstar—Redeem for 1 Hard VIP Box [2000 Copies total, must be star ranked]
california—Redeem for 125 Event Points
dice—Redeem for 125 Event Points
neneko—Redeem for 125 Event Points
hardstyle—Redeem for 125 Event Points
Roblox RoBeats Frequently Asked Questions
How to Redeem RoBeats Codes
Redeeming codes for free rewards in RoBeats is easy.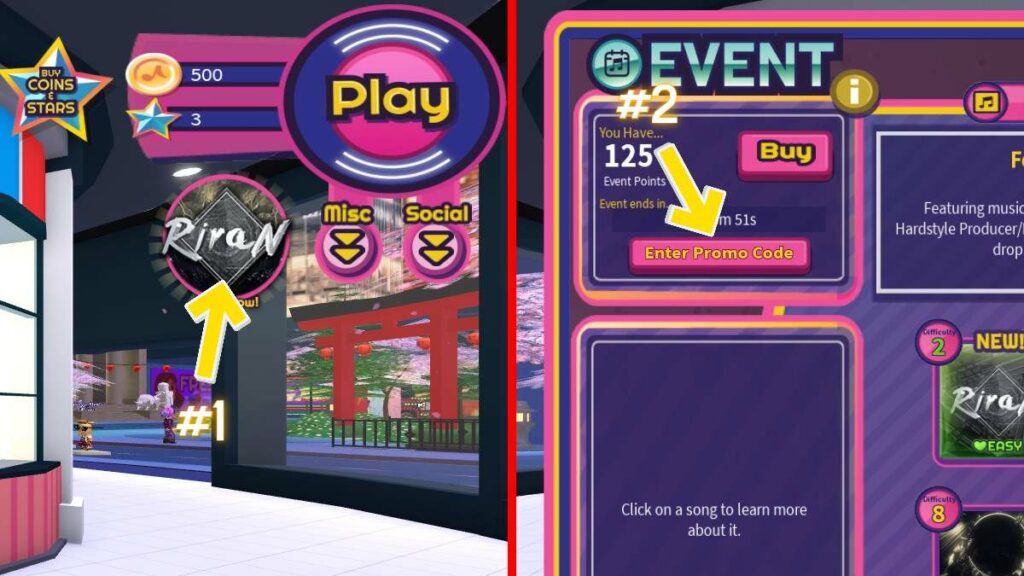 In the game, press the Event button near the top-right corner. The button in the image above might not be the current event, but that is where the event button will be.
In the event window, press the Enter Promo Code button in the top-left corner.
In the text box, enter the code exactly as it appears in the list above.
Press the Okay button to claim your reward!
How can I get more RoBeats codes?
Many of the codes released for RoBeats are based on reaching specific thresholds for likes in the game. This means it is a collective effort among the RoBeats community to encourage the developer to release more codes. You can do this by liking and favoriting the game on its Roblox page and by joining the RoBeats Dev group page.
Why aren't my RoBeats codes working?
Most RoBeats codes are released for reaching specific thresholds, but they are often only available during special events in the game. If you try to enter the codes when there is no event running, they may not work as intended. This doesn't mean the codes are expired—they could be reactivated if another event starts.
What is RoBeats?
RoBeats is a music-themed Roblox experience that can be casual or competitive. It plays the same as the Guitar Hero franchise, except on the keyboard. You must tap the correct keys at the right time according to what you see on the screen. The better you perform, the higher your rank and better your rewards!
If you're looking for codes for other games, we have a ton of them in our Roblox Game Codes post! You can also get a bunch of free stuff via our Roblox Promo Codes page.